A Tribute to Hundertwasser
November 25, 2012
---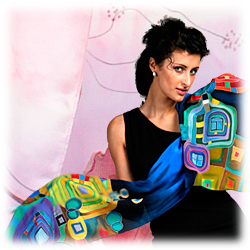 Are you a fan of art inspired silk scarves? If you are an art connoisseur and love to sport art inspired products including scarves, apparel, and other women holidays gifts then check out scarf designs inspired by Friedensreich Hundertwasser. Designs inspired by the art of this great 20th century Austrian artist have a youthful playfulness about them. Colours hold prominence in his designs and hence silk scarves inspired by Hundertwasser's art have a playful composition of various primary and secondary colours.
The Man Behind the Inspiration
Friedensreich Hundertwasser was an Austrian artist who was born in Vienna on December 15, 1928. He is a prominent figure in the world of art and architecture and was considered to be quite controversial as well as one of the most remarkably talented contemporary Austrian artists. Born as Friedrich Stowasser, he developed his artistic skills at the Academy of Fine Arts in Vienna. He befriended René Brô, a young and budding French painter and received acclamation and success at an exhibition in Vienna in 1952-53.
In the early 1950's, he moved into architecture and gained experience creating creating flags, coins, stamps, and posters. He also focused his efforts in applied art. Hundertwasser's art has truly inspired many people across the world as his visions were expressed through different artistic styles and themes. At the center of his art and architecture was the use of bright colours and organic forms. He strayed away from straight lines thus showing strong individualism. Several paintings of Hundertwasser have portrayed the human-nature reconciliation and relationship. He categorized his art under transautomatism, which is based on Surrealist automatism. In spite of creating this style of art, he focused the theme of his artwork on viewer experience.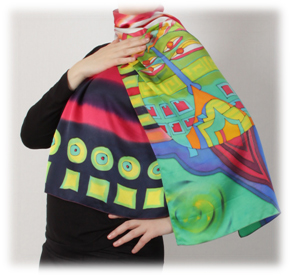 Hundertwasser had a weak spot for spirals, which fascinated him and he used it freely in most of his artworks as opposed to straight lines. He incorporated this rejection of straight lines in architecture as well. Some of his great architectural works include:
Hundertwasser façade in Plochingen, Germany
Grüne Zitadelle in Magdeburg, Germany
Public toilets Kawakawa, New Zealand
Thermal power plant in Vienna
Raststätte Bad Fischau at A2, Austria
Quixote Winery in Napa Valley
Roof garden of a Kindergarten in Frankfurt-Heddernheim
House Waldspirale in Darmstadt
Today his art style and fascination for the spirals have been painted on or woven into silk scarves and other fashion accessories. There are different types of women Christmas gifts that have been inspired by Hundertwasser's art and his inimitable and sometimes unruly style and vision. As a tribute to Hundertwasser, special editions of silk scarves are available for art connoisseurs with each of them embodying his themes of organic forms and environmentalism.
---
---
Posted in hundertwasser collection
---