Hand Painted Silk Scarves - The perfect union of art and passion
January 6, 2013
---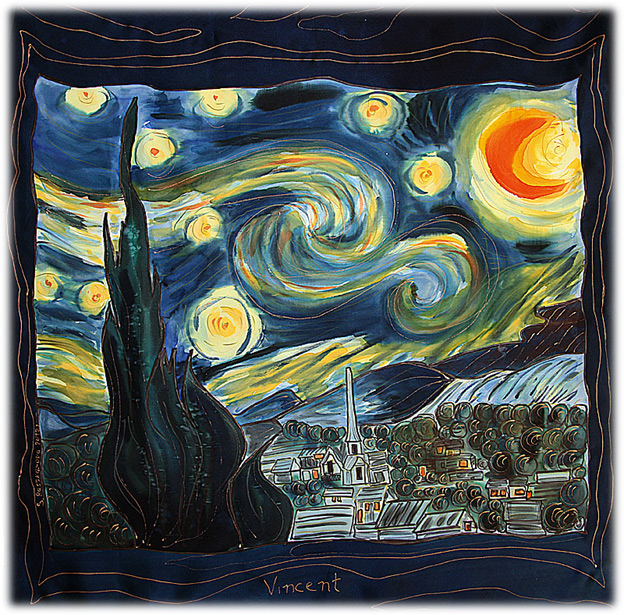 Often labeled as a status symbol, silk scarves have been associated with wealth and opulence, but one of the most unique and integral aspect of a designer silk scarf and one that if often overlooked is the artistic creativity of the design it bears. The artists who create these distinguishably inimitable silk scarves are either inspired by the works of other renowned artists or use their own creative flair to beget a masterpiece.
Either way, hand painted silk scarves is the perfect canvas where art seamlessly meet with passion. The artists of the bygone years Michelangelo, Picasso, Vincent Van Gogh, and the likes would often put in their heart and soul to create a work of art. Such creative virtuosos have served as an influence on the artists of today.
Contemporary artists of today are budding with creative genius and an avenue to expose their talent. Recreating the work of eminent artists of the bygone eras is one such way. Clothes and accessories turn into their canvas and the magic of their recreation transform a simple garment or a scarf into a beatific work of art. Silk scarves make for an easy and in-demand canvas considering the versatility and the luxurious appeal. Further adorning silk scarves with hand painted recreation of exquisite paintings make these coveted gifts for women and even for some men.
This is why today there are various silk scarves that you can buy from specific retail websites, and which feature hand painted artworks. Here at WomensClothingToday.com we feature a disparate variety of hand painted silk scarves that have an individualistic touch. Most of the paintings on these scarves have been recreated by some very talented in-house artists.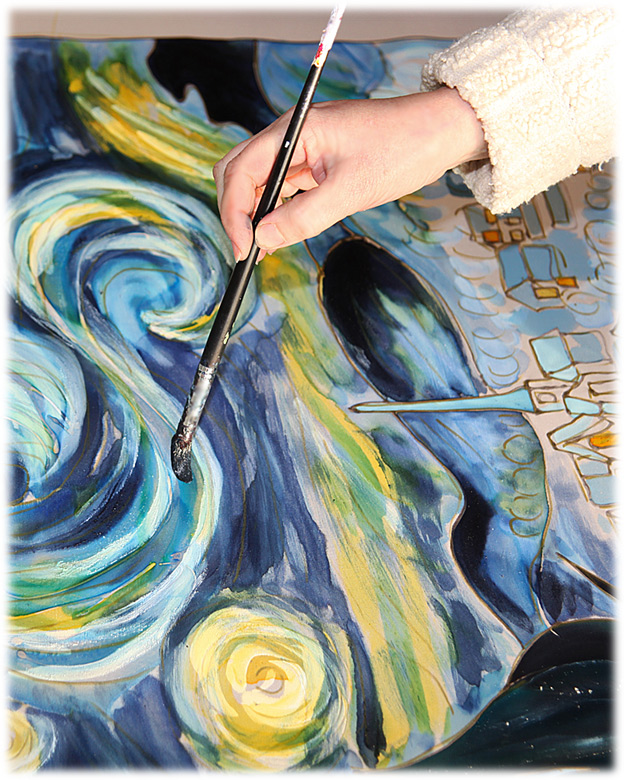 Recently we launched an exclusive line of silk scarves inspired by the work of Van Gogh. These scarves embodied the essence of the festive season, for instance one silk scarf had been recreated bearing the artist's famous work 'The Starry Night', which made for a perfect gift, especially for an art lover.
One of the in-house artists at WomenClothingToday.com Svetlana Rasskazova, who also happens to be the website's main designer is inspired by the work of Gustav Klimt. She has remodeled his paintings to transcend various echelons of artistic portrayal of a masterpiece on a piece of clothing.
Apart from giving the works of other artists an innovative touch, Svetlana also find the beauty of Nature to be a source of inspiration. Many hand painted silk scarves designed by her carry her own perception of the daintiness of a beautiful flower she might have found in her own garden. While anything can serve as an inspiration for these artists, it is their interpretation and expression on silk scarves that determine the end result. As per Svetlana, it all starts with a flash of inspiration and sooner than you know you are already painting a picture in your mind. Whether you are on the subway or having lunch, the painting keeps building up stroke by stroke, it then becomes impossible to not translate your vision onto a canvas.
If you have the passion for art and zeal to transform your work into something relatable by other art lovers, creating designs for scarves and apparels is a good start. This gives the artist's work considerable exposure while building their own brand name simultaneously. No matter where you are currently in your life, if you really want to follow your heart and turn your vocation and avocation you might want to consider showcasing your work in this manner.
Did you know that the only American to design scarves for Hermes was a postman? Kermit Oliver, an employer of the US Postal Services, is one of the most renowned living African-American painters of today. Most of his paintings are humble assimilation of everyday lives on canvas. His works revolve around portrait of children, and farm workers and animals. With feet deeply rooted on the ground, Oliver did not even consider himself to be good enough to be called a painter. However, he did not once let go of his passion for art and the result-apart from a house full of his paintings on every wall- he's the only American to have his paintings featured on Hermes' scarves, and not once but 16 times.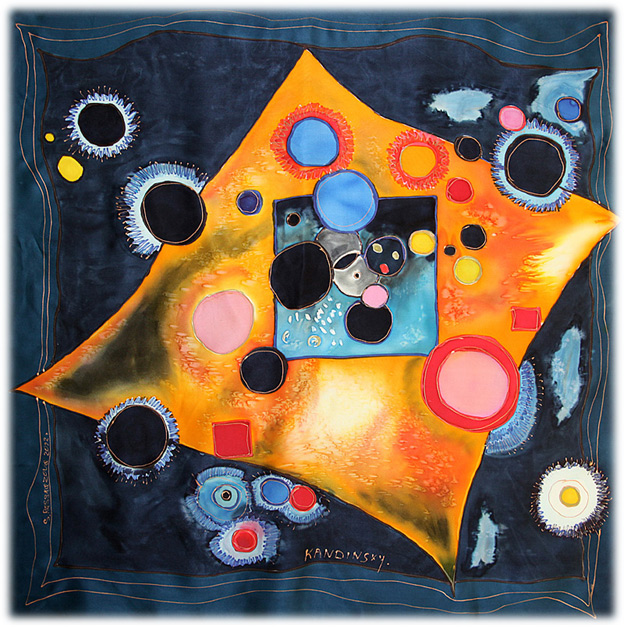 For most artists their works are a part of them. Whether it is a painting on a 25" x 38" canvas or a regular sized hand painted silk scarf, when you buy one of the artist's work of art, you do not just buy a painting or a scarf, you also get a piece of their personality and perception.
So, while you luxuriate in the feel and elegance of one such hand painted silk scarves do not forget to spare a thought by admiring the beauty of the artist's work adorning the scarf.
Wishing you all the best,
Anda Tudor, WomenClothingToday.com
---
---
Posted in hand painted silk scarves- the perfect union of art and passion
---