One Black Dress, Many Possibilities
December 1, 2012
---
Fashion trends and color trends vary from season to season. However some colors, patterns, or fashion trends sustain these changes and remain popular forever. The elegant "Black Dress" has always remained a trendsetter with women of all age groups. Young or old, the sight of the black dress lightens up the eyes of all ladies. The fashionable black dress is sold quickly from the shelves of any fashion store. The color black captivates the mind of one and all and has the unique ability to highlight the personality and increase the confidence of the lady. Lovers of the black dress swear by it as they feel it makes them look slimmer!
Silk Scarves: Complementing Your Style Statement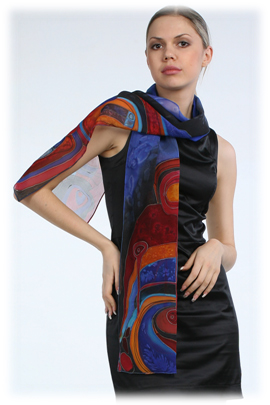 Fashion experts who work on celebrity style adore black, because it goes very well in combination with other colors. One Black dress can be worn with different accessories to have a killer effect each time. Simple fashion accessories like scarves change your look completely. A different scarf can be worn with the same black dress to different occasions and guess what? You'll always be flooded with compliments. Red silk scarves with the black dress and some red lip gloss are surely a deadly combination. Those who prefer the more sophisticated look can go for purple silk scarves made from royal silk.
As we celebrate master craftsman and designer Hundertwasser's anniversary, why not go in for the large scarves of earthen and organic colors created and popularized by him, which can really make you standout in the crowd? Those large scarves can be used as a stole or a cape to give you a totally different look. This is a very helpful fashion tip for the voluptuous women, and expecting mothers can celebrate being pregnant in style.
Smaller scarves can be tied up as a knot around the neck. Those who wish to highlight their slim waistlines can tie the scarf loosely around the waist over the black dress. High heeled pumps and elegant leather bags can act as excellent add-ons to your stylish looks.
As the festive season is on, lots of gifts are being exchanged. Royal silk scarves or animal scarves will be very well received fashion gifts by the stylish ladies. You can also gift these colorful designer scarves as Christmas gifts and holiday's gifts. Scarves, though small gifts, can act as a good memorabilia, especially if they have been gifted by a loved one.
The charm of the black dress refuses to fade with the passing time. It has and will always remain one of the most popular and coveted fashion trends this season and for many seasons to come.
All the best,
WomenClothingToday
---
---
Posted in silk scarves: complementing your style statement
Tagged
animal scarves
,
celebrities style
,
christmas gifts
,
colour trends
,
fashion gift
,
fashion trends
,
gifts
,
holidays gifts
,
hundertwasser's anniversary
,
large scarves
,
pregnant in style.
,
purple silk scarves
,
red silk scarves
,
royal silk
---