Silk Scarves – Celebrate Christmas in Style
November 3, 2012
---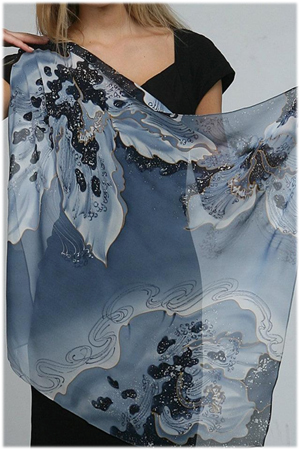 One of the most amazing things about silk scarves is that they can be worn for any occasion, and especially they will bring out the very best of you during Christmas. There is something very exquisite about hand painted silk scarves and that is the fact they portray different forms of art in a very simplistic way. Although paintings are created on silk scarves, silk doesn't lose its charm in any way nor do the colors overshadow the essence of the painting. Imagine wearing a winter flower scarf that has faded pastel shades in blackish blue and snow white. Even silk scarves for women that depict night flowers have a subtle hue of light blue, white, and black in combination that brings out the element of nostalgia.
Are you thinking for celebrating Christmas in a special way? If you are planning something to surprise everyone on Thanksgiving or Christmas, then there isn't a better way to be a host wearing handmade silk scarves with your formal attire or cocktail gown. One of the salient aspects of hand painted scarves is that they just seem to fit into any attire or dressing style. Not only this, they will also highlight your personality and accentuate you skin tones. Darker shades of orange and red will be perfect if you have a neutral or warm skin tone while lighter shades will go with cool skin tones.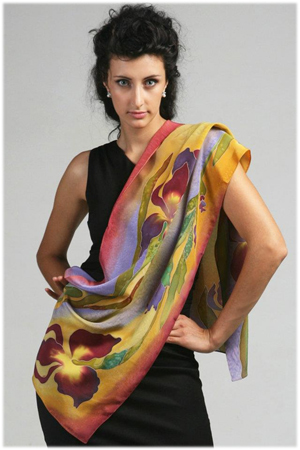 Whether it is a sunny Christmas morning with clear skies or a snowy morning with overcast skies, all you need to uplift your mood is a hand painted silk scarf. Silk shines and when you have beautiful paintings and works of abstract art on silk, the fabric will bring out the colors in such a way that you are bound to catch a lot of attention. If you don't mind being the center of the evening and if you love art then these scarves are unique gifts for women. You need to own one to get a feel of it!
All these years, if you have been missing art in your day-to-day life, then with the help of these handmade silk scarves, you can make art an integral part of your day at work or at home. The fact of the matter is that you will not be able to resist the feel of silk and the beautiful and subtle and sometimes overtones of blue, red, orange, white, yellow, and violet!
Wishing you all the best,
WomenClothingToday Team
---
---
Posted in silk scarves – celebrate christmas in style
---