The Gift of Silk
November 1, 2012
---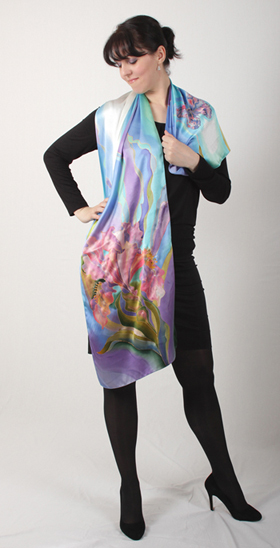 Christmas is knocking on the door and there is no better way to celebrate the flavors of life than by wearing your heart out on the hand painted silk scarves. Festivals and art have come a long way and Christmas is the one festival where art can communicate with the soul. Art in any form pleases the five senses and color soothes the mind and soul. When art finds a form and shape and is induced with colors of the rainbow, beautiful silk scarves are born.
Alluring to the eyes, the silk scarves are the perfect art gifts for women this Christmas. Hand painted on silk by special artists, each scarf has a personality of its own. Each scarf has an art décor that mixes the true colors of nature with those of the abstract. From paintings of orchids in pastel shades of pink and mauve to the colorful abstractness of multi-colored squares, these handmade silk scarves create a perfect balance of art and form.
Since the Renaissance period, artists have come and gone but art lives forever! Art has existed in several forms, from paintings to sculpture, and for centuries, it has held mankind spellbound. Today, there is a new canvas for painting, and it is in the form of silk scarves.
Silk scarves for women can be used in several ways, from being worn as a head scarf to being a super smart neck accessory to go along with formal wear. The essence of silk is that it is smooth and soft and can be worn in several ways. Depending on the form of art on the scarf, they can be worn as a neck rosette, double loop wrap, or even as muffler scarf.
The real handmade silk scarves for women are made from 100% pure silk and come in many sizes, for every taste. Environmentally approved dyes are used for bringing art forms to life on these silk scarves. They can be hand washed and are machine washable as well. They can be worn on any occasion, from Thanksgiving to a corporate event, and with any type of attire, from formals to casuals. These silk scarves are not merely luxury gifts for women, but their uniqueness lies in bringing out the different flavors of attitude and beauty in women.
The gift of silk is ever lasting and ever pure! What a better gift for Christmas than something so bright, so savvy, and so artistic!
Wishing you all the best,
WomenClothingToday Team
---
---
Posted in the gift of silk - christmas edition
---