Express Your Different Sides with Sumptuous Silk Scarves
September 27, 2011
---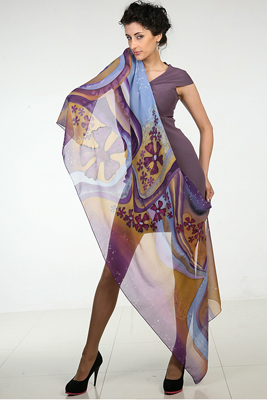 If you've ever tried to describe your personality, such as when filling in an online profile or a profile for a dating agency, it probably didn't take too long before you came to realize just what a complex being you really are. Like everyone, you probably have days when you have your responsible and hard-working head on, and others when you just want to throw caution to the wind or indulge your more playful and childish side. You might have times when you feel more reserved and conservative and others when you feel wild and sexy.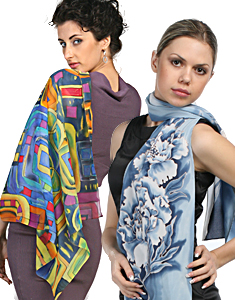 There are, of course, many different ways in which we express the different sides of our personalities. Sometimes they show in our actions and behaviors or in the choices that we make, and sometimes it is our body language or the ways that we express ourselves verbally that give the game away. Another way that women in particular often like to display their multi-faceted natures though, is through their personal appearance, and in fact using different styles of make-up, different hairstyles and different clothes and accessories is a great way to express who we are on any particular day. You don't have to have a closet full of items which range from the sublime to the ridiculous though to use fashion as a means of self-expression. With a selection of silk scarves at your disposal, you can ensure that your regular wardrobe always fits your mood.

The great thing about silk scarves is that they are just so versatile. Not only can they be worn with just about any outfit imaginable, but they can be tied in so many different styles, each of which can help to describe you in different ways. If your smart, professional side happens to be at the fore, then one of your square silk scarves tied crisply around the neck will reflect your no-nonsense attitude. Long, flowing silk scarves, on the other hand, are great for when your dreamy, romantic side is winning through. If the little girl inside feels the need to break out, then why not tie your hair up with a gorgeous hand painted silk scarf fastened in a bow? For the red-hot sexy look, meanwhile, take one of your long silk scarves and tie it to create a fabulous halter-neck top before hitting one of your favorite night spots with the girls.

Whatever your mood or whichever side of your personality you want to have on show, there's a fabulous silk scarf to help you express it.
---
---
Posted in choosing a theme for your silk scarf or shawl
---